---
In Liberia, a United Methodist primary health-care clinic provides a life-saving diagnosis and medication that other health facilities missed.
By Tatenda Mujeni
February 16, 2021 | ATLANTA
All hope was lost for Douboma Wieh and her husband as they returned to their Planpa Town village in Liberia. The 46-year-old mother and grandmother had visited four clinics before traveling to the city as a last resort, seeking treatment for a mysterious month-long illness.
Douboma recounts: "At the hospital, the staff said I had coronavirus and no medicine was available. I was getting worse every day, so my husband carried me back to our village to die, since we were out of money."
Douboma was stigmatized because of her suspected coronavirus diagnosis while she and her family waited for her imminent death. After Douboma lost consciousness, her family and some young men from the village carried her in a hammock on a four-hour journey to the United Methodist clinic in John Dean Town. The health-care workers there did not turn her away.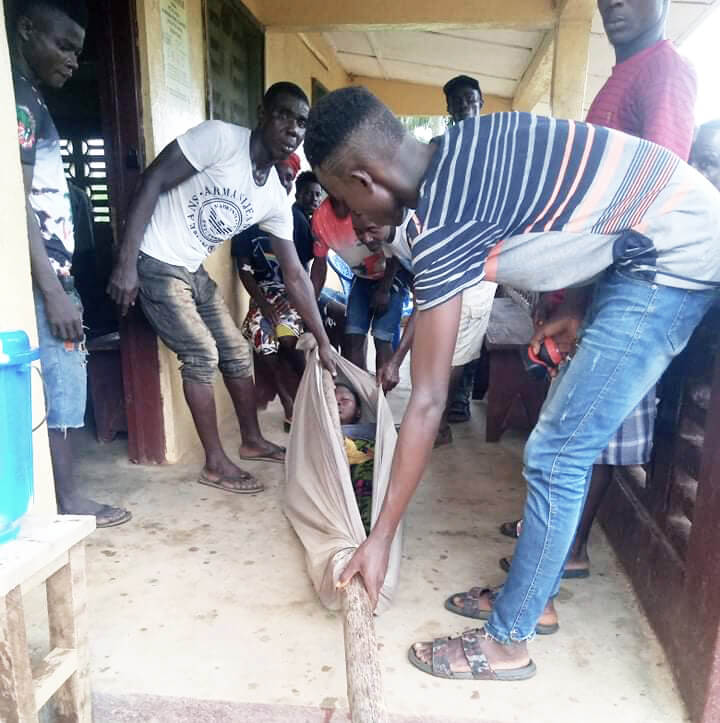 Following proper infection prevention protocol, they assessed and retested her. It turns out, Douboma did not have COVID-19; she had malaria. They started her on antimalaria medicine intravenously.
The health-care workers at John Dean Town met Douboma at her point of need. This facility in Liberia is one of more than 100 United Methodist primary health care (PHC) facilities serving communities throughout Africa. Primary health-care centers are the cornerstone of health service delivery globally, with PHCs serving as the first point of health care for an estimated 80% of the population. Often located in rural communities, PHCs provide essential services, such as prevention from infectious diseases, prenatal care, immunizations for mothers and their newborn babies, as well as ongoing disease diagnosis and treatment for the entire community.
Steady, consistent work equips clinics for better health care
Ensuring that United Methodist facilities throughout Africa can provide essential services, such as the lifesaving malaria diagnosis and treatment that Douboma received, is one of the goals of the Health Systems Strengthening program of Global Ministries. Over the last decade, through the United Methodist Committee on Relief and, in the last quadrennium, through Global Health, Global Ministries has invested the gifts of United Methodist donors to build better health services, better-equipped facilities and networks of dedicated health workers who care about raising health standards in their communities.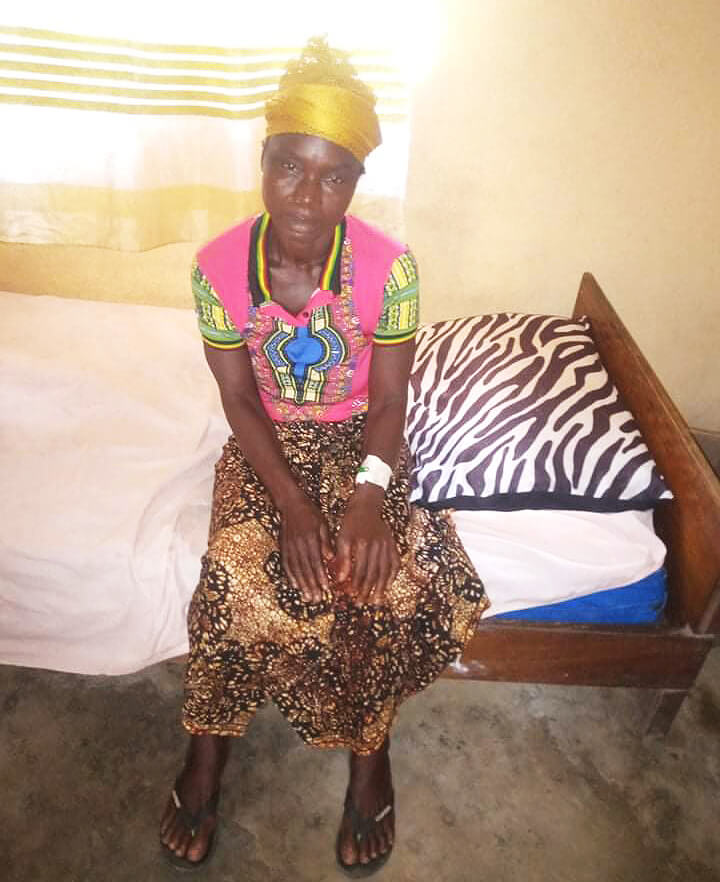 These goals are reached through partnership with the regional United Methodist health boards that coordinate health care on behalf of the United Methodist conferences they serve.
A major goal of the Health Systems Strengthening program is to provide facilities with trained health-care workers who are equipped to work safely and effectively. In the era of COVID-19, this means training in infection prevention and control as well as providing personal protective equipment for patients and health facility staff.
Another goal is to outfit facilities with essential medications and other medical supplies. Stocking facilities makes lifesaving treatment and prophylaxis from diseases readily available at United Methodist health facilities at little or no cost to the patients.
When asked about the effect medications and supplies have on the community surrounding the 16 HSS-supported facilities in Nigeria, the Health Board Coordinator, Dr. Ogbu, stated: "Availability of essential drugs at the rural health facilities helps to change people's attitudes toward their health behavior. Once they are aware that there are drugs at the facility, they present earlier, before complication sets in."
Working on adequate infrastructure
Adequate health infrastructure is vital to successful health service delivery. The HSS program rehabilitates United Methodist facilities like John Dean Town Clinic so they meet the minimum standards for care as defined by the World Health Organization (WHO). These core standards include a safe and stable building, a reliable power supply, a clean water source and access to functional toilets and latrines.
With ongoing support to primary health-care facilities throughout Africa, Global Ministries' Health Systems Strengthening program provides hope for patients like Douboma who nearly lost her life.
"Thank God for the Methodist people," Douboma responded. After just two days of treatment, she was feeling more like herself. "Thanks for the good, good medicine they can bring every time. Thank God for all the people who send this good medicine and for the good doctors for poor people. Yes!"
Tatenda Mujeni coordinates Imagine No Malaria and shares oversight of the Health Systems Strengthening program as a program manager with the Global Health unit, General Board of Global Ministries.
The United Methodist Church's Abundant Health Initiative is committed to reaching a million and more children with life-saving interventions, a goal set for the 2016-2020 quadrennium. This commitment is only possible through increasing health access and coverage for many thousands of community members within the reach of United Methodist congregations, health facilities and services. Reaching the most marginalized with healthcare is an issue of justice.
Access to health services is not always simple1

In Liberia, Mardea was carried for two hours in a hammock, during labor, to deliver her baby at Camphor clinic. In Central Congo, the construction crew at Dingele Maternity Center rushed a woman in labor with complications to the hospital in their truck. In Jalingo, Nigeria, the taxi union has been contracted to transport women with obstetric emergencies to UMC health facilities. In Nicaragua's autonomous regions, a horse or motorboat are on standby.
But there are so many other places around the world where physical access to health care simply isn't possible. Tragically, women and children die for lack of transport – a bus, a bicycle, a motorbike, a truck – or the money to pay for the service, the confidence or permission to take it, or, finally, the limitations of staff and services available on arrival at a health clinic.
Affordability is at the heart of the matter for many families. Payment for consultation fees or medicines brings about hardship. They must use rent money, miss meals, walk instead of ride, go into debt or lose a day's income.
For Bhawana, affordability meant a walk of several hours with her husband and mother-in-law in the hills of Western Nepal. She had gone into labor and needed to reach her clinic as quickly as possible. On arrival, the examining nurse found complications that she was not equipped to help with and immediately referred the family to the district hospital. How would they pay for the transport and hospital fees?
It seemed an impossible and life-threatening situation until they realized they qualified, on the spot, for an interest-free loan from a fund created for such emergencies. This fund was initiated through a Global Health grant and, after discussion and agreement, received equal and ongoing contributions from the community and local government.
Health coverage and health access go hand in hand
Health coverage is the actual delivery and receipt of services, but many people are unwilling to seek services near their home because of the attitudes of health workers. True health coverage is access to health care providers themsleves and to quality care offered with dignity in clean facilities. Many women from lower social classes or those simply lacking resources have given birth in poorly equipped and staffed facilities without basic infrastrature, like water or a decent delivery bed, because of years of neglect.
Justice for these women has been realized through the UMC-supported revitalization of their health facilities to provide maternal, newborn and child health care, among other essential serives. Delivery rooms are equipped and medications are available. Health care workers in UMC health facilities are trainied to provide care with dignity, regardless of the indivudal's background. In Ghana, pregnant women and patients prefer to travel for miles to access the Methodist Health Facilities: "We prefer to come to the Methodist clinic" they say "because God is there." God is there through the compassion, love and the quality care they receive.
In the United States, there has been great fear linked to the COVID-19 pandemic – fear of infection and fear of passing infection to one's unborn child. COVID-19 has had a devastating effect on the African American community, in particular.2 According to The National Institute for Health Care Management Foundation, Black people are dying from COVID-19 at a rate 2.4 times higher than white people. This is due to higher rates of pre-existing health conditions, over-representation in frontline and essential worker jobs, unequal access to quality health care and insurance coverage and the greater likelihood of living in hyper-segregated neighborhoods. Systemic injustices impact minority communities in many detrimental ways, including the compromised heath of women and children.
A call for education
Sometimes, even when quality services exist and people have access to them, they still might not be utilized. People may not be aware that they have treatable conditions because their illnesses have become "normal" or have a spiritual or contextual diagnosis. Annual bouts of malaria can just be part of life and HIV may be pronounced a spiritual malady or punishment. People may not realize how their avoidance of health care impacts others, like untreated tuberculosis and sexually transmitted infections, undiagnosed Ebola or COVID-19, hidden depression, alcoholism or anxiety. This calls for strengthening health education and the accompaniment of those with such conditions.
Some years ago, in Zambia, a young woman attending HIV awareness meetings conducted by a Global Ministries partner suddenly stood up and called for the group's attention. She started by saying "I now know the witches who took my two daughters. Their names are HIV and AIDS!" She had never wanted to learn about the virus before because she had believed it was bewitchment. At the meeting, her mind and direction completely changed, and she went for testing and treatment. She now gives other women the testimony of her life – how she lost two daughters who were born HIV-positive because of her lack of knowledge, but that she now has a beautiful HIV-negative son.
Everyone deserves the best health care
Advocacy and funding for other foundational parts of our lives are also essential to personal, family and community health. For example, safe housing, clean drinking water, affordable fresh food, equal education and employment opportunities, affordable childcare and physical security improve the overall health of families and communities. Global Ministries has funded wells and latrines, small and large nutrition and agricultural projects, scholarships and livelihoods – all to address these underlying needs.
At the heart of The United Methodist Church's Abundant Health Initiative is the desire to bring the best possible health services with the best possible outcomes to communities, and especially to women and children. Although beneficiaries are counted, the goal is not primarily reaching higher numbers. What's important is offering quality health care with dignity and compassion, mostly to people who have been marginalized. Reaching them is an issue of Christian care and justice. We long for you to join us through your prayers, giving and by care for your community and the world.
Kathy Griffith is the Global Health team lead and program manager for Maternal, Newborn and Child Health.

1https://www.who.int/bulletin/volumes/91/8/13-125450/en/
2https://www.nihcm.org/categories/systemic-racism-is-a-public-health-crisis
By Christie R. House
Patience Zakari, a young mother in rural Nigeria, was afraid to take her children to a clinic when they were sick with fever. She feared the cost of treatment, given her limited budget, which made it difficult to pay for essentials like food and school fees. She preferred, instead, to go to a local chemist to buy cheaper malaria drugs, but they didn't always work.
When her twins, who were still babies, became ill, she feared they would not survive. She found a clinic operated by the Nigerian United Methodist Church, which was screening for and treating malaria at no cost to the patients. "I, my twins, and my other children all received treatment and are well again. Now that we are receiving free malaria treatment, I no longer fear going to the clinic," Zakari said.
A strong, integrated health system that families and individuals can trust to give the best care possible is not a given in many parts of the world. In Nigeria, United Methodist health facilities in rural areas are working to improve their outreach into the communities they serve.
The Nigeria Rural Health Program, operated by the Nigeria United Methodist Health Board, oversees 16 rural health clinics in four annual conferences within the Nigeria Episcopal Area. It also supports the newly established Jalingo Hospital, constructed in 2017, thanks to an Imagine No Malaria (INM) Hospital Revitalization Grant.
A Health System Strengthening operational grant from Global Ministries' Global Health unit supports the operations required to manage the health board's country office. The grant provides salaries for key program staff, like the health board coordinator, Dr. Godfrey Ogbu. It makes possible supervisory visits and on-the-job training of facility staff at the supported health facilities. This integrated and comprehensive approach to the health needs in Nigeria increases access and improves the quality of services delivered.
A year-long Imagine No Malaria program that began in June 2019 provides long-lasting insecticide bed nets, prophylaxis to prevent malaria, and medications and supplies for diagnosis and treatment. Education encouraging behavioral changes to prevent malaria are included in this outreach to community members.
Reaching patients with services and treatments they need
The Nigeria Health Board team travels to United Methodist primary health-care facilities to equip and empower clinic staff with technical information to increase their response. Moses Alikali, who serves as the INM officer in Nigeria, reports that he and Ogbu visited the 16 facilities to monitor malaria programs four times between June and December last year, despite the difficult terrain. Alikali outlines the details involved in one of these visits: "We are making sure that the beneficiaries are receiving free malaria treatment, that health facility staff are adhering to World Health Organization malaria treatment protocol, and that proper documentation of patients and accountability of malaria commodities are recorded."
Through collaboration with their Maternal, Newborn and Child Health (MNCH) and INM teams, the Nigeria Health Board works toward quality care for all patients who visit the UMC facilities, particularly pregnant women and children under five, who are the most vulnerable to disease. Women who come for prenatal visits can receive medication that will protect them and their babies from contracting malaria. They can also be tested for HIV and if they test positive, start antiretroviral medications. With proper treatment, HIV-positive mothers have a good chance of delivering HIV-free newborns.
This work is vital because Nigeria accounts for 10% of the world's maternal deaths and ranks 6th in the world for mortality of children under age five. Malaria infection during pregnancy raises risks for both mother and fetus. Maternal anemia, fetal loss, premature delivery and low birth-weight are a few of the dangers.
But the first step is gaining the trust of families so that mothers are aware of their need for the services and come for prenatal visits.
Marta Sunday, who lives near the United Methodist Taka Wurkum facility, found the treatment she needed after she'd tried others: "I was sick for weeks. Even though I was receiving treatment from another health facility, I didn't recover. At Taka Wurkum, the doctor checked me and explained the reasons why I was still sick. He said either the malaria drugs I bought from the market had expired or I wasn't taking the right dose. Within two days, the medication he gave me changed everything, and I am feeling good. My baby is calm and healthy since she was treated in this facility. I thank the mission clinic and the doctor in charge who has taken the time to see that these services reach us."
The Nigeria Health Board also received essential medications and equipment from a HSS Primary Healthcare grant to support gaps in medications and supplies in the targeted health-care clinics. In addition, funds will support the rehabilitation of seven health facilities in Nigeria. 
Along with facility revitalization and provision of essential supplies, the HSS program invests in staff development to improve the quality of care. Through a Global Ministries-funded obstetric training event held in the Philippines, a doctor and nurse team received hands-on Caesarian-section training that they brought back to Jalingo Hospital and are sharing with their colleagues.
Working with communities for health improvement
Alikali says community involvement is key for the successful implementation and sustainability of malaria control intervention. "Already in the communities are infrastructures, like community leaders and church leaders, who provide avenues for entry," he noted.
In its first six months, the INM project directly impacted the lives of 21,075 people, including children, pregnant women, and others. More than 2,038 people who might have died of malaria were saved. The project made quality malaria medications available in hard-to-reach communities. And, the number of patients that visited the health facilities where the INM project has been implemented tripled to 23,991.
The success of this project has boosted the confidence and enthusiasm of the staff in the facilities and the level of community trust as well. This abundant trust has gone a long way to increase health and well-being in remote areas. Receiving correct diagnoses and effective treatments at little or no cost has increased the number of families seeking treatment. The Nigerian Health Board therefore anticipates a general reduction in morbidity in the communities they serve, especially for women and their babies.
Christie R. House is a consulting editor and writer with Global Ministries.